I don't know about you, but I love getting mail. Not junk mail… but mail that was personalized and came from a family member, friend, colleague, etc…
When I first was introduced to Sugarwish, I thought it was a cute idea. I sent one to a friend and a family member. They loved it! So here I am sharing about it with you so maybe you can encourage someone today or tomorrow with one.
It started with an unsuccessful search for simple, yet clever, gifts. Two busy moms, trying to get their endless list of "to do's" done, (and hopefully, done well).
One of them managed a growing business in Denver, and the other managed a household with 3 active boys. With 5 kids between them, neither of them needed anything else to do. Still, they just couldn't resist trying to find a way to create what they had been looking for.
Gift giving is something that most of us deal with monthly, weekly, or even daily (during certain parts of the year). With friends, family members, teachers, and business colleagues…the list of "receivers" seems endless.
There is always someone that we should be doing something for, or some situation that's 

awaiting 

our acknowledgement.
The Challenge was to think of a new way to give a gift that would bring "thoughtfulness" back to giving. It needed to be more fun for the receiver, without making more work for the giver.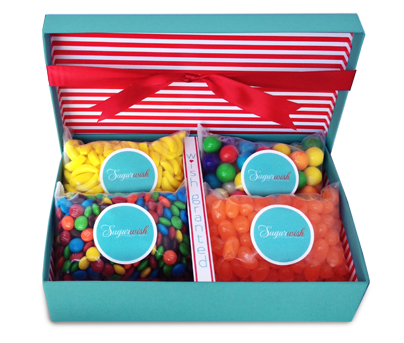 That's when the two moms decided to make a website where the giver could choose the gift (in this case, candy) and then the receiver could personalize it, by choosing details of the gift (the specific types of candy.)
And that's how Sugarwish™ was born.
What started as 2 friends commiserating over the lack of options for clever gifts, turned into a gift that had all the things they were looking for… and more. Their search was over.
Sweet happiness.  Delivered.
Join me and encourage someone today!
Check out the website for more information on how it works…